While on the trip of a lifetime in Israel, 3 days after being Baptized in the Jordan River, the Miracle of the 'Heart Stone' happened on 11.11.2019
You see, the Lord has been nudging me 
with GP's (God promptings) to become a more faithful disciple of Jesus. It was my 3rd attempt to go to Israel when my prayer was answered with a word and a gift. The Heart Stone manifested on the Mount of Blessings in the West Bank at a winery in God's Vineyard.
NO COINICIDENCE IT WAS ON
THE MOUNTAIN OF BLESSINGS. Amen
It all happened after a biblical conflict with a fellow Christian on the Jonathan Cahn 2019 Mystery Tour.
After listening to the Muslim call to prayer being shouted across God's Holy land for a week 5 times a day, I felt a spirit of darkness come over me and the Lord's chosen land Israel, it was so loud pervasive and consuming!
We had arrived at the Ha Yovel vineyard in the West Bank, after our luncheon we all were listening to Jonathan Cahn's message when the 3:00 pm Muslim call to prayer began being shouted  across the valley (broadcast on speakers). This man sounded like a wolf howling in the wilderness, it was loud and horrible sounding drowning out Jonathan Cahn's message so much that he had to pause. This is when I spoke these words out loud.
"I wish they would just stop!"
Others who heard me concurred but then the spirit of Jezebel attacked. A fellow Christian on the tour standing nearby rebuked me for being disrespectful of the Muslims. She said Christians have Church Bells why should Muslims not be allowed to do this.
I vehemently disagreed and Well, I digressed and said this is God's land! Muhammad did not live until 400 years after Jesus walked on the earth. This call to prayer multiple times a day is the enemy attacking GOD's land his people Christians & Jews. The Church bells ring once a week on Sundays not 5 times per day.
After a short but heated exchange it ended when this woman stated I lacked the Holy Spirit of discernment that she had as she turned and walked away.
WOE! I was speechless! 
Devastated by her words I turned, bowed my head silently in prayer at the picnic table.
Father, I'm so sorry if I got this wrong, I wish not to offend YOU or anyone. I'm sorry pleading my apology, asking the Lord's forgiveness… PLEASE forgive me father… this is when I heard the Lord speak these words:
"It's Okay… I love you, LOOK!"
 When I opened MY eyes to the gravel trail before me
(Walked by 1000's of pilgrims each year)
with the sunshine over my shoulder, this little stone with a double heart emblazed on it was shining up at me. 
Whaaat? I gasped… Really father? (looking up…)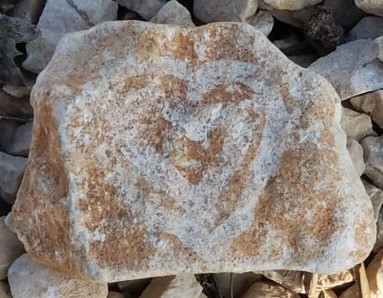 (photo taken where the stone laid on 11.11.2019)
After my outburst and shock with a giggle of disbelief,
my wife Mitzi asked, "Now what happened?"
I said, You, wouldn't believe me if I told YOU! As I continued to study the stone, take photos and look up to Praise GOD and Thank Jesus…
My wife again asked demandingly, WHAAAT?
After I had a moment to gather myself, I turned towards her and others present that saw the Jezebel attack.  When I shared with them my prayer and how I heard these words It's OK I LOVE YOU LOOK… before opening my eyes to the Heart Stone they were all Amazed!
(I could not make this up even if I tried!)
All, who have heard this testimony and seen the Heart Stone confirm the message given was truly a gift from the Heart of Jesus!
It's all about the HEARTS OF STONE…Amen
Ezekiel 11:19 wAnd I will give them one heart, and xa new spirit I will put within them. yI will remove the heart of stone from their flesh zand give them a heart of flesh,
---
Ezekiel 36:26 And I will give you ia new heart, and ia new spirit I will put within you. iAnd I will remove the heart of stone from your flesh and give you a heart of flesh.
---
Jeremiah 31:33 sFor this is the covenant that I will make with the house of Israel after those days, declares the LORD: sI will put my law within them, and I will write it ton their hearts. uAnd I will be their God, and they shall be my people.
---
Hebrews 8:10
 For this is the covenant that I will make with the house of Israel after those days, declares the Lord:
I will put my laws into their minds and write them on their hearts,
I will be their God and they shall be my people.
Maybe, this was my just reward for answering his call to go to Israel?
Or was this attack by a fellow Christian Jezebel Spirit planned all along?
His ways are higher than our ways, The mystery of Heart Stone Miracle and my walk with Jesus continues
In the past I questioned if my prayers would be answered or if God was listening at all. Well, I know better now!  He knows, hears and sees all…
When we Ask, Seek and Knock (ASK) at His door, He will reveal himself to us if we are patient, listening and looking with a willing heart.
The Heart Stone Miracle is living proof of his divine authority and promises.
It was the manifestation of His love poured out upon me that day and to all who call upon His name… Trust, he is listening to your prayers Jesus Loves YOU! You never know how or when he will answer your prayers!
YESHUA, JESUS is OUR FOUNDATION STONE the ONE True Rock of LOVE!
I pray this testimony blesses you and inspires you to dig deeper into your relationship with God our creator and his only son Yeshua Ha Mashiach who is our HIGH PRIEST our Emanuel "God with US"… Jesus!
I discovered that day God is listening, he sent the Holy Spirit of Truth to speak to me! 
"It's Okay… I love you… LOOK!" 
So, pray often… Listen intently… and hear Him speak to YOU!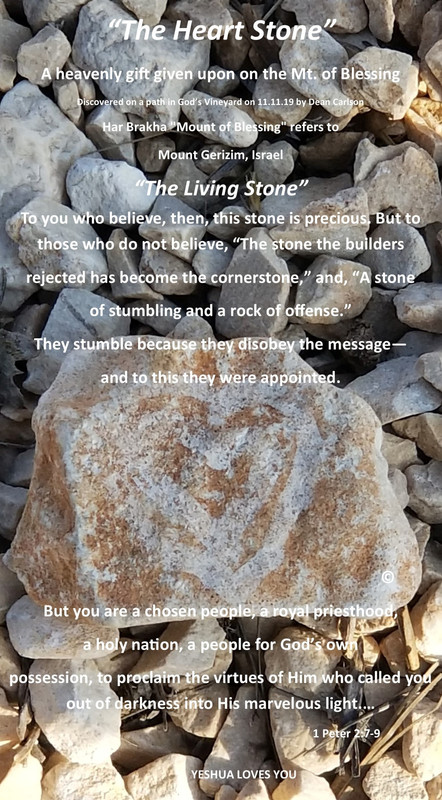 While on our journey home after arriving at JFK International in New York city.
I told my wife who is not on the same faith page as me, that I was planning on Returning
to Israel. I already anticipated her answer but asked her if she'd go back with me.
without hesitation she replied… NO, as she went to the lady's room.
IN SHOCK, I again closed my eyes in prayer and asked for the Lord
to forgive her for she knows not what she speaks!
WHEN I HEARD THESE WORDS
"LOOK UP!"
THERE ON THE AIRPORT CEILING ABOVE ME!
REALLY LORD… THANK YOU, JESUS!!!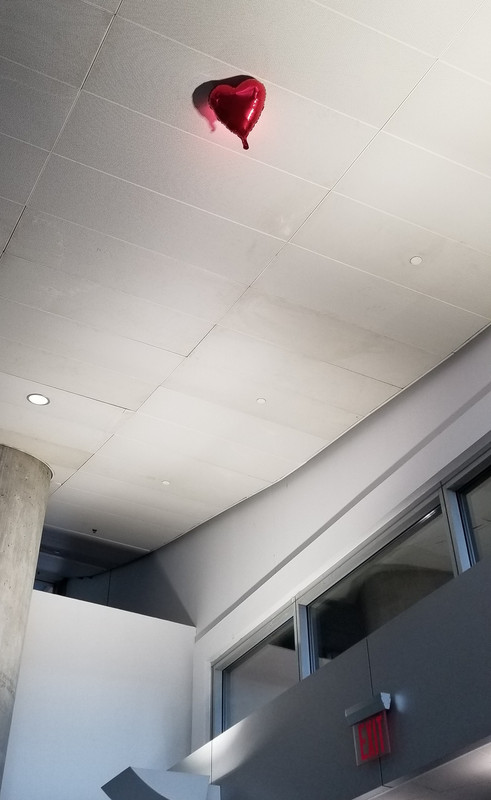 (I can't make this up)
When my wife returned from the bathroom, I was giggling to myself so she
asked… NOW WHAT HAPPENED? I told her, showed her the photo and
she LOL'd yeah right, you took that off the internet!
NO, I exclaimed "LOOK UP"
It took a second to find the Heart Balloon but when she did,
she was speechless! Amen 
"LITTLE DID I KNOW THE SAGA IS JUST BEGINNING"
After returning home, my nephew asked me to officiate his wedding. I GULPED
and said I would need to think about it… after much prayer I realized
this was a divine appointment requested from the Lord and I did NOT
want to DISAPPOINT him for this calling or my nephew and his fiancée.
 It wasn't easy at the beginning of the COVID-19 CRISIS with the courthouse closed
but I with the help of Jesus was VICTORIOUS! Ordained just in the nick of time as a minister of the Christian Harvest Church on July 17th, 2020. 
The GOOD LORD then DELIVERED the Biblical Wedding in CANNA (Inver Grove MN)
Despite the COVID -19 LOCK DOWNS, 3 Venue changes and Biblical Pandemic attacks
Brandon & Jacci Carlson 
had a beautiful back yard wedding August 1, 2020 
The Lord works in MYSTERIOUS WAYS!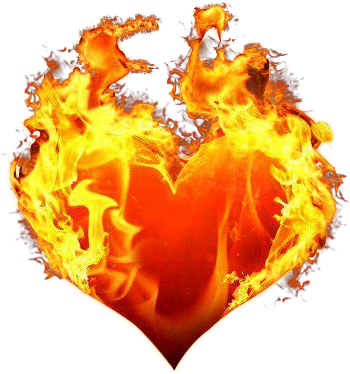 DID YOU KNOW?
God's Heart Burns with a blazing love for you. 
A LOVE that remains TRUE always.
A love that is waiting to turn your life upside down or should I say right side UP!
Pray this over your New TRANSFORMED LIFE
Father, please grant me the Blazing Fire of the Holy Spirit. Please,
fill my heart with or your burning FIRE OF LIGHT and LOVE!
Grant me the power to be as WISE as a Serpent
and Gentle as a DOVE!
I ask this in the mighty name of your son 
YESHUA HA MASHIACH
Our Emanuel JESUS
Amen & Amen
Believe in your Heart, Trust in his promises and YOU will forever be changed!
This SPIRIT FIRE is more intense than anything that exists. 
A FIRE stronger than death and more beautiful than Life itself.
As you grow in the Spirit of TRUTH
your LIGHT will Burn Hotter and BRIGHTER!
DON'T HIDE IT UNDER A BUSHEL BASKET
Make JESUS the Eternal Flame that Burns within Your Heart
and get ready to be turn right side UP!
HALLELU-YAH
Thank YOU JESUS! 
Luke 24:32
They said to one another, "Were not our hearts burning within us while He was speaking to us on the road,
while He was explaining the Scriptures to us?"
IMAGINE MY SURPRISE WHEN I TURNED HEARTSTONE UPSIDE DOWN?
IT REVEALS THE FLAMES OF THE HOLY SPIRIT LIKE A CANDLE BURNING BRIGHTLY
ARE YOU READY?
GET SET…
LET'S GO! SHINE YOUR LIGHT UPON THE WORLD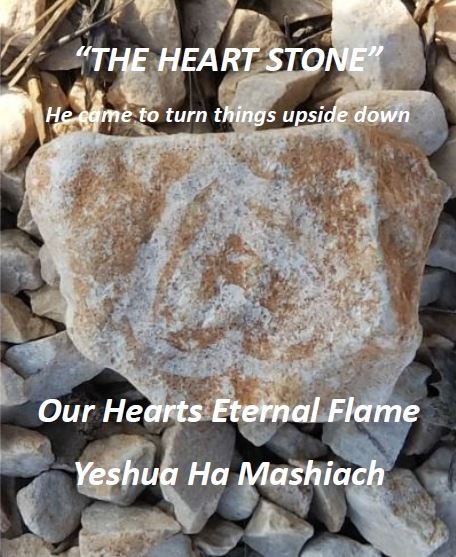 I pray this testimony inspires you to dig a little deeper into your Faith with our creator
May the Holy Spirit of Truth be upon you as you Pray often… seeking intently…
because YOU never know when he will KNOCK at your door and speak to YOU…
IT'S OK I LOVE YOU… LOOK UP!
Amen & AMEN
BUT WAIT THERE IS MORE…
THE 3rd SUPERNATURAL DISCOVERY WAS IS ON THE REVERSE SIDE OF THE STONE. A TRIANGULAR MOUNTAIN TOP LIKE MASADA
THE SITE OF ISRAEL'S LAST BATTLE AGAINST THE ROMANS WAS HERE AT KING HERODS OUTPOST MASADA
LEARN MORE ABOUT THE MASADA STRONGHOLD AND THE ISRAELITES LAST STAND